Mother's Day Circle Time and Activities
As Mother's Day is approaching, I am sure that more and more Early Years Teachers (EYT) start to think about what activities they should prepare for the kids and what gifts the children should make for their mothers. So in this article, I try to give you some Mother's Day circle time and activity ideas.
In my experience, many EYTs would read books, sing songs on how much love mothers have for their children and then make the kids create something heart or flower shaped objects or cards with handprints on them. Don't get me wrong, these are not at all bad! I have done all these in the past, but I feel that it is time to change and make the activities and gifts more creative, unique and meaningful.
Planning Mother's Day circle time and activities
Now, I want you to think about the circles times that you did with your class on mother's day in the past. What did you say? What was your aim, what did you want the kids to learn and then later remember? What do you think children understood from your talk?
When I think about what I would say to kids about Mother's Day and what I would do with the kids, some keywords and aims come to my mind. I find tables very useful and recommend you to try them to plan out your next class. Here, I just do a quick and rough planning without thinking of concrete activities so I will not interweave EYFS goals now (it is just an example with my ideas).
| | |
| --- | --- |
| Keywords | Aims |
| Love | Learning about meaningful giving |
| Appreciation | Learning about heartfelt actions |
| Respect | Creating something unique and meaningful |
| Mothers are... (fighters, never tired etc.) | Learning about others' emotions |
At circle time, I would talk about the followings:
▶︎ What does celebrating our mom mean?
First of all, I would think that I want to make children (at least to try) to understand what celebrating mothers can mean. I would say that when we celebrate mothers, we show them how much we love them. For example, you can ask children to show with their hands how much they love their mothers (sometimes they remember such things and then they might actually show this to their moms) and then say that when you love someone, you want that someone to be happy.
We want to make our moms happy, so how can we make them happy? You can ask this question from the kids one by one, but if you have a big group of children, you can ask them to turn to their peers and tell them what they could do to make their mom happy. You may help children to come up with ideas.
▶︎ Respecting our mom and appreciating what they do:
You can ask the kids about what their moms do and you might help them to remember by asking questions such as: Does your mommy help you in the morning/lunchtime/evening? How does your mom help you, take care of you?
Then ask them: What do you think, why does mommy help you? and then ask: What do you do when mommy helped you? Do you say thank you? Do you give a kiss or a hug? Do you put your shoes on by yourself? Do you make something? etc...
▶︎ Learning to give and heartfelt actions:
Around the end of the circle time, you can start talking about the activity/gift making. I would first mention what actually we are going to be prepared for: we are going to give something to our moms. Why? Why do we want to give (you can refer to what you previously said about what mothers do and why) and what shall we give?
When I search for Mother's Day gift/craft ideas for toddlers, I keep bumping into the same mainstream things that might look great and aesthetically pleasing but how can you make them with toddlers and make sure that each one of them will have the kids' unique personality in them plus the gifts will be meaningful. For now, I just want to give you some tips that you can use in planning what gifts you would like to make with the kids and in my next article, I will share my not so regular, non-uniform craft ideas.
Gift ideas and book recommendations
Let children make their own gifts. Show/tell them what you imagined for them to make, but then try not to interrupt and correct them. Let their personality and uniqueness shine truth. I know how much you (and might be moms as well) look for pretty and well-made crafts, but ask yourself: is it more important than children learning through making and implementing their understanding and personality into their works?
Think about something that you have not done yet or think about new ways to do what you have already done with the kids in the past. Think what kind of gifts are meaningful? creative? full of love and personality?
Book recommendations for Mother's Day in the nursery

There are lots of books on how mothers love their children (and these books are good, don't misunderstand me) but perhaps we could read other books that are about how much mothers do for their families, and how we can make them happy. Here are some of my recommendations (the links are going to take you to Amazon):
---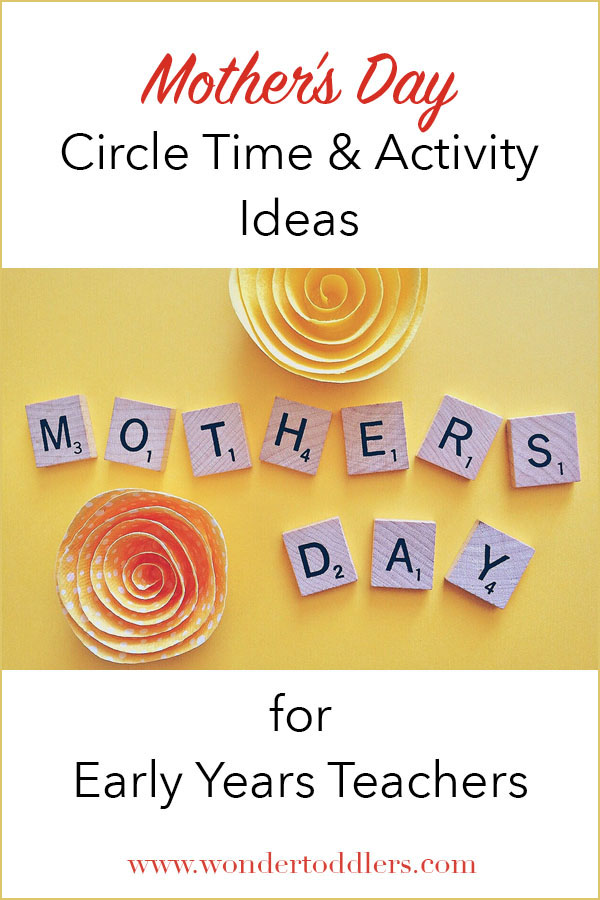 Feel free to share, like and pin this article 😉
Join our Community on Social Media to discuss this and any other topic with fellow parents and teachers!
Facebook  Twitter   Instagram   Pinterest   YouTube
Share your opinion, help others with your experience and let's form a good place together.